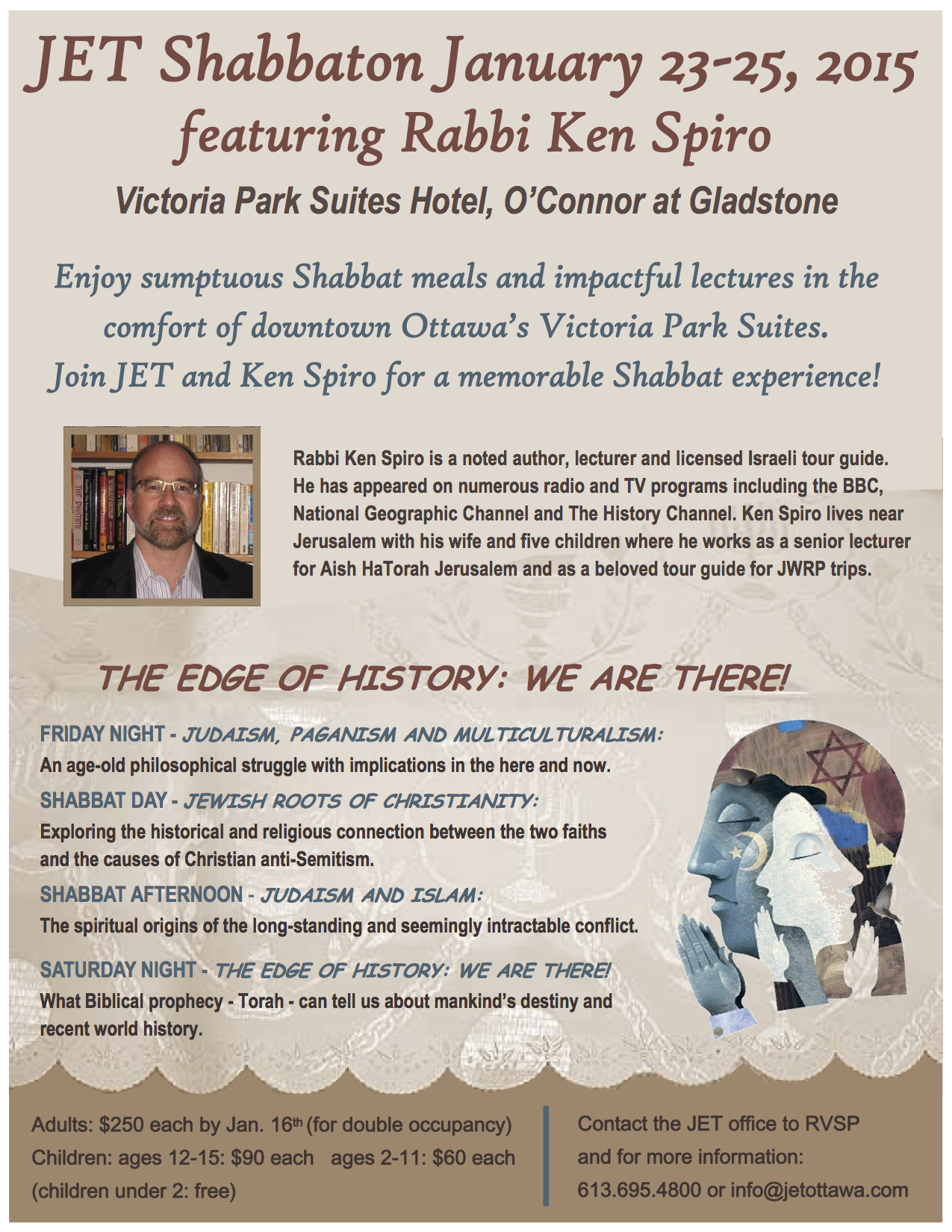 Enjoy sumptuous Shabbat meals and impactful lectures in the comfort of downtown Ottawa's Victoria Park Suites. Join JET and Ken Spiro for a memorable Shabbat experience! Our theme this year is The Edge of History: We Are There! Take a sneak peek at the topics of the classes below:

FRIDAY NIGHT – JUDAISM, PAGANISM AND MULTICULTURALISM
What is the philosophical basis behind the ancient struggle between Judaism and Paganism? Why is it so relevant to modern morality? 

SHABBAT DAY – JEWISH ROOTS OF CHRISTIANITY
What are the Jewish origins of Christianity? Why did the pagan world become Christian, not Jewish? What is the Jewish perspective on Jesus? Why don't Jews believe he is the Messiah? A fascinating overview of the historical and religious connection between the two and the causes of Christian anti-Semitism.

SHABBAT AFTERNOON – JUDAISM AND ISLAM
What are the spiritual origins of the conflict between Islam and Judaism?  How do we understand the fundamental underlying causes of history's longest and seemingly most unsolvable conflict?

SATURDAY NIGHT – THE EDGE OF HISTORY: WE ARE THERE!
What does Judaism have to say about the destiny of mankind? How does recent history and today's headlines match up to Biblical prophecy? This presentation will give you a profound appreciation of the power of prophecy in world history and a deeper understanding of world events today.
Want to know more about Rabbi Spiro?
Rabbi Ken Spiro is a noted author, lecturer and licensed Israeli tour guide. He has appeared on numerous radio and TV programs including the BBC, National Geographic Channel and The History Channel. Ken Spiro lives near Jerusalem with his wife and five children where he works as a senior lecturer for Aish HaTorah Jerusalem and as a beloved tour guide for JWRP trips. Read more at his official website: www.kenspiro.com
Pricing
Adults: $250 each if registering on/by Jan. 16th, 2015 (for double occupancy), $260 each after Jan. 16th.
Children: ages 12-15: $90 each , ages 2-11: $60 each, children under 2: free

RSVP info
Contact the JET office to RVSP and for more information: 613.695.4800 or click to download the registration form below and email it to info@jetottawa.com