Wednesday, March 16th • 7:30 p.m.
SJCC • 21 Nadolny Sachs Pr.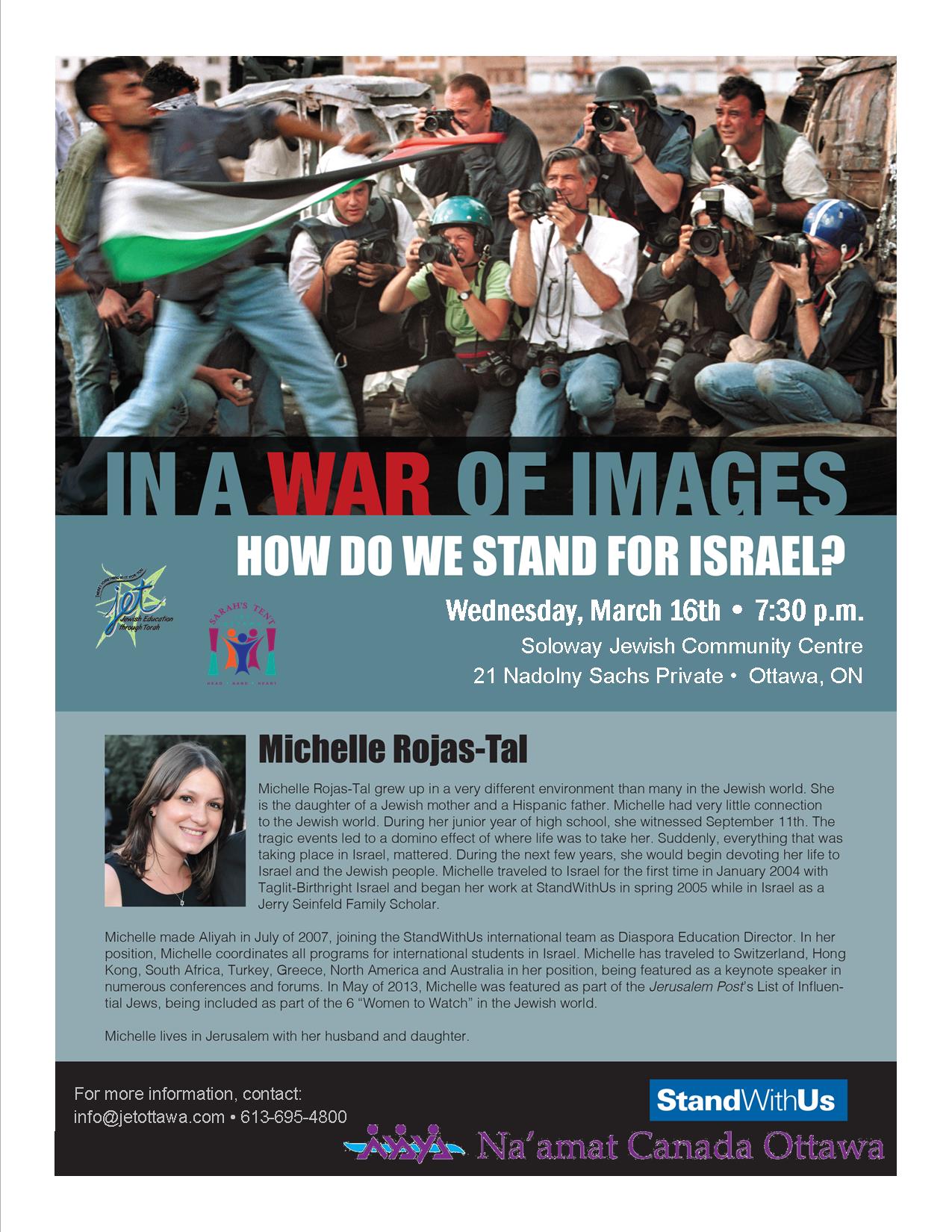 In a war of Images
How do we stand for Israel?
Michelle Rojas-Tal, acclaimed as one of the 6 "Jewish Women to Watch" by the Jerusalem Post, will be in Ottawa on March 16, 2016 speaking at the SJCC Social Hall at 7:30 PM.
As a director of StandWithUs Israel, Michelle brings a unique and lively perspective to the challenge of media bias in covering Israel.
StandWithUs is an international, non-profit organization.  Education is the road to peace. StandWithUs is dedicated to informing the public about Israel and to combating the extremism and anti-Semitism that often distorts the issues. Knowledge of the facts will correct common prejudices about the Arab-Israeli conflict, and will promote discussions and policies that can help promote peace in the region.  Through print materials, speakers, programs, conferences, missions to Israel, campaigns, social media and internet resources, the story of Israel's achievements and ongoing challenges is told on campuses and in communities around the world. Based in Los Angeles, StandWithUs has eighteen offices and chapters across the U.S., Canada, Israel and in the UK.
A resident of Jerusalem, her presentation is both fascinating and chilling, fully engaging  the audience and bringing them insight into one of the more troubling aspects of Diaspora life.  She has literally circled the world as a keynote speaker in numerous conferences and forums.  Michelle's presentation is jointly sponsored by JET Ottawa and Sarah's Tent.  Admission is free, kindly reserve your seats by contacting the JET Ottawa office at 613-695-4800, or info@jetottawa.com.